Class of 2021 Graduation & Awards Dinner
Friday 12 November 2021
Sfera's Park Suites & Convention Centre
Marquee Ballroom
191 Reservoir Road, Modbury
6:30pm Class of 2021 photo
7:00pm Awards Dinner commences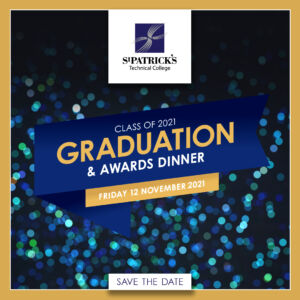 Conduct and Dress Code
The Graduation & Awards Dinner is an official College event and a formal occasion with a number of invited guests, industry partners and sponsors in attendance. All guests are therefore expected to conduct themselves throughout in a manner commensurate with the formality of the evening.
The dress code for the event is formal (i.e. no jeans or sneakers). Male graduates are expected to wear a jacket and tie; female graduates, cocktail dresses.
Further information will be communicated with graduating families in Term 3.
Class of 2020 Graduation & Awards Dinner
On Friday 13 November, over 300 family, friends, staff and industry partners celebrated the achievements of our Year 12 students at the St Patrick's Technical College Class of 2020 Graduation & Awards Dinner, Sfera's Park Suites & Convention Centre.
As well as presenting students with graduating certificates, individual awards were presented as part of the College's annual Awards Program.
The St Patrick's Technical College Awards Program is valued over $10,000 thanks to the generosity and support of our Awards Sponsors. We are most grateful for their continued support and their commitment to our College and students.
Thank you to our 2020 Awards Sponsors. For a list of Award Winners and a recap of the night click here.