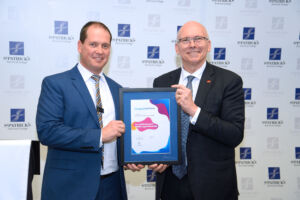 St Patrick's Technical College has reached a milestone of 1000 apprenticeship and traineeship sign-ups in South Australia and has celebrated this remarkable milestone in style.
With a special event held at the College on Thursday 12 March, it was an honour to have The Hon. David Pisoni MP, Minister for Innovation and Skills, as guest speaker and acknowledge the College's valued trade training and support of young people for skilled careers.
Principal of St Patrick's Technical College, Mr Danny Deptula, was presented with a certificate of acknowledgement for achieving 1000 apprenticeship sign-ups.
"The success of the College has been achieved thanks to the big dreams and the great amount of ideas contributed by passionate and committed people,' Mr Deptula said.
"In being who we are, our thanks also extend way beyond the walls of our College. Thanks to the Catholic Education Office, other educators, all levels of government, our industry partners and industry networks, other educational providers, businesses, employers – all visionaries in supporting our College and all crucial to its success.
"We thank them all, including families, staff and students, in celebrating with us."
Many dignitaries, including various members of the South Australian Parliament, as well as special guests were in attendance who have been very important to the story of the College's journey.
Mr Deptula acknowledged the success of the College came down to the courageous families and their children.
"Those families and young adults who have made the bold decision to enrol their child into the College and have ultimately helped to try and break the stereotype of what successful learning should look like," he said.
"The success of our College has also been achieved thanks to the big dreams and the great amount of ideas contributed by passionate and committed people."
Three Year 12 Metals & Engineering students, Charlotte Simmons, Jordan Ranasinghe and Christopher Skelton, share the title of 1000th Apprentice and commenced their trade in welding with employer Century Engineering.
The sign-up is a unique undertaking for St Patrick's Technical College and Century Engineering, an Australian owned business providing a range of end-to-end engineering solutions and services in Edinburgh North, with three students signed at once with the same employer.
As part of their school-based apprenticeships, the students will study Year 12 with the College, working towards gaining their South Australian Certificate of Education (SACE), at the same time studying a Certificate III in Engineering – Fabrication.
Mr Deptula says the 1000th sign-up for the College demonstrates the importance of vocational education in secondary schooling.
"To be able to jointly develop the skills and capabilities required for current and future workplaces has been crucial to the successful outcomes for apprentices and trainees from St Patrick's Technical College," Mr Deptula said.
"Hands-on learning and flexible study options provide our students with training and work-ready skills while preparing them for jobs now and of the future."
St Patrick's Technical College has been built on the foundation to train and skill young people in the north of Adelaide with the objective of providing a quality education and training framework, ultimately leading to skilled jobs and meaningful careers. Since its inception in 2007, the College has skilled and trained Year 11 & 12 students with work-ready skills and provided a young work force eager to start their careers.
Click here to view a gallery of images.